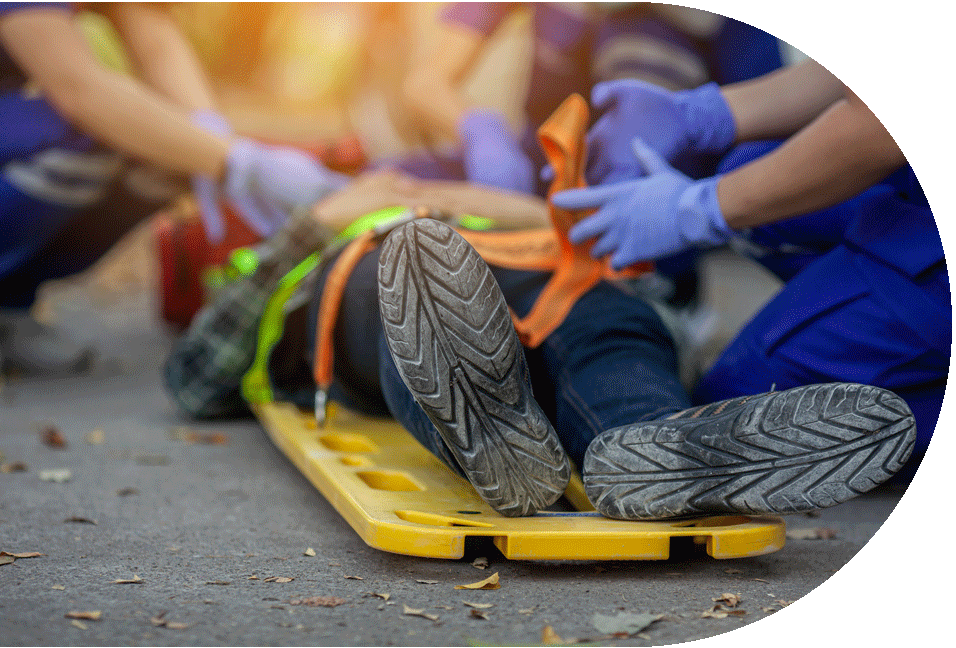 Our healthcare providers are deployed directly to the worksite to deliver proactive injury prevention and clinical services designed to prevent, resolve, and mitigate workplace injuries. Our nationwide staffing capabilities include Certified Athletic Trainers, EMT's, and Registered Nurses delivering lifestyle and behavior change modification that promote personal accountability for improved health and proper movement on the job. All of our providers are Mental Health First Aid Certified to effectively identify mental health and substance abuse concerns and break down barriers to receiving quality and effective care.
Protecting Your Workforce
We are a national leader in emergency response, providing turnkey COVID-19 testing and vaccination services to states, federal agencies, municipalities, and private organizations.
We have administered over 2.5 million COVID-19 tests and over 500,000 COVID-19 vaccinations in large scale, smaller scale, fixed, semi-permanent, and mobile environments, including several public testing programs for the health departments of 10 states and 5 municipalities. Our expertise in rapid response testing was demonstrated through our work with FEMA, where we swiftly performed over 60,000 POC (point of care) tests in over 50 unique FEMA sites, often within 36-48 hours of receiving the call order. We are proud to have earned 8 highly rated Contract Performance Assessment Reports (CPARs) for our efforts.
See What Our Clients Say
Ramp Health (formerly Wellness Coaches) is a responsive contractor that provides very good resources, sound technical approaches, timely communication, and certified staff.
— Federal Emergency Management Agency (FEMA)
Our Emergency Response, Turnkey  Solution
We combine over 25,000 trained healthcare staff, rigorous protocols, and state-of-the-art technology to provide:
State-of-the-Art Technology
Registration, authorization and consent management, scheduling, and results are delivered via a state of the art, HIPAA-compliant platform.
Onsite Medical and Clinical Resources
Services are delivered by our national network of over 25,000 highly trained, certified and credentialed healthcare professionals.
National Rapid Response Capabilities
We can rapidly deploy within 36 hours of receiving notification of a emergency response requirement. We handle all healthcare professional recruitment and scheduling, equipment, logistics, and communication planning and management.
Complete Range of Test Options
We are an accredited CLIA-waived laboratory and can offer a wide variety of FDA EUA authorized point of care antigen and molecular tests, with results in 15-30 minutes. We also offer PCR lab-based testing options with results in 24 hours.
Communication and Language Support
We have a full-time communications team that develops written materials and scripts for all our participant outreach and program promotion. Our technology platform can translate our services into over 100 languages.
Project Management
Project Management includes coordination with key stakeholders at our customers to arrange scheduling and logistics and to ensure that project goals and accountability are met.
Secure Reporting
Test results and population-level data are stored in a secure, HIPAA-compliant, HITRUST certified portal. Participants are notified via email and or text when results are available.
Scalable and Customized Infrastructure
We can scale our services to meet any size requirement, large or small, and offer the flexibility to have fixed, semi-permanent, mobile and/or virtual emergency response solutions.
At-Home Test Kits
We have supplied over 3,000,000 FDA EUA approved rapid COVID-19 OTC tests to states, hospitals, and private clients nationwide. We provide a robust reporting solution that allows individuals to self-report test results, or we can provide proctoring services for self-administration testing. Test kits can be shipped to our customers in bulk or directly to participant homes.
Our Emergency Response Customers: