As a leader of an organization responsible for the health and safety of an entire population, you need a trusted, full-service wellbeing partner. Look no further. Ramp Health makes healthcare convenient by delivering unmatched results through programs designed uniquely for your organization.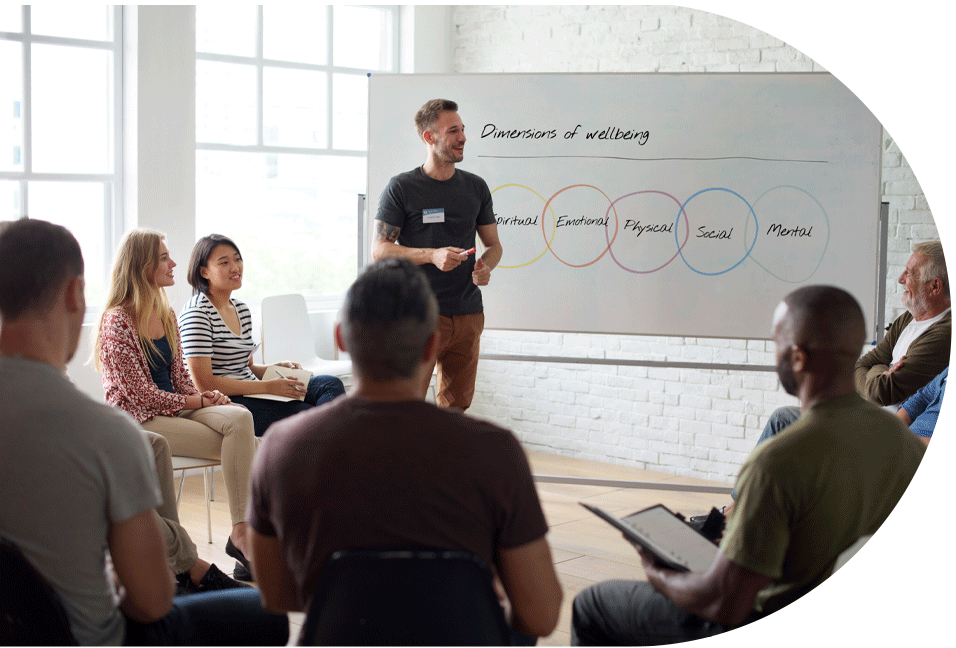 Our wellness coaching programs are designed to help participants achieve lasting lifestyle change in the areas of weight and stress management, nutrition, physical activity, tobacco cessation, work/life balance, and life satisfaction. All wellness coaching sessions are entirely confidential and provided by our certified Wellness Coaches.
Whether it's virtual or in-person, participants get unlimited visits based on their unique circumstances. This tailored approach meets participants where they are, helps them gain new skills, and creates actionable goals that move them closer to their highest wellbeing.
For over 20 years, our services have proven to reduce risks, improve health, and lower healthcare and workers' compensation costs:
86%
Engagement rates among our clients
350,000+
Members provided health & wellness services
6,700,000
Coaching interactions
1,000+
Employer locations
Our wellness coaching programs address a variety of needs:
Weight management
Stress management
Nutrition
Physical activity
Tobacco cessation
Blood pressure
Life satisfaction
Mental Health
Personalized & Accessible
Our certified Wellness Coaches are behavior change specialists who help participants achieve lasting results through proven coaching techniques, while being trusted allies to support them along their health journey. Our coaches motivate employees and work with them to develop personalized health improvement plans. Whether it is helping people lose weight, exercise more, eat better, reduce stress, or whatever factor may be hampering their health, our certified Wellness Coaches are there to support their efforts every step of the way.
Coaching Experts
Collaborative Care
Our teams engage members with personalized wellness coaching and encourage positive behavior changes through seminars and group programs on topics like mindfulness and stress management. Our integrated care team of healthcare clinicians and registered dietitians collaborate to create innovative programs that combine wellness coaching, musculoskeletal health (MSK), condition management, behavioral health, and more to bolster participant engagement and overall wellbeing.
Our Registered Dietitians will help participants eat smarter, manage chronic conditions and live healthier! Our nutrition services provide the education and advice participants need to make positive changes to their diet and lifestyle. We offer one-on-one tailored sessions to ensure participants get the most out of our nutrition services. In addition, we offer group nutritional classes or lunch and learns to provide participants with ongoing education and personalized plans to improve their wellbeing. Our programs are evidence-based using nutrition methods approved by the Academy of Nutrition and Dietetics.
Nutrition Experts
Registered Dietitians are an integral part of our integrated care teams. They offer nutrition counseling and support to help manage and prevent a vast array of chronic conditions, including pre-diabetes/diabetes, heart disease, and hypertension, as well as digestive disorders and weight issues. Our Registered Dietitians collaborate with our care teams to evaluate the nutrition risk and needs of participants by conducting assessments, collecting nutrition histories, lab results, and medical histories, and identifying nutrition-related risks.
Medical nutrition therapy
Lunch and learns
Health fairs
Webinars
Nutrition assessments
Cooking demos
Group programming
Education in nutrition principles
Development and implementation of a care plan
Evaluation of participants' nutrition plan and follow up
Services are available as a no cost preventative benefit under many health plans.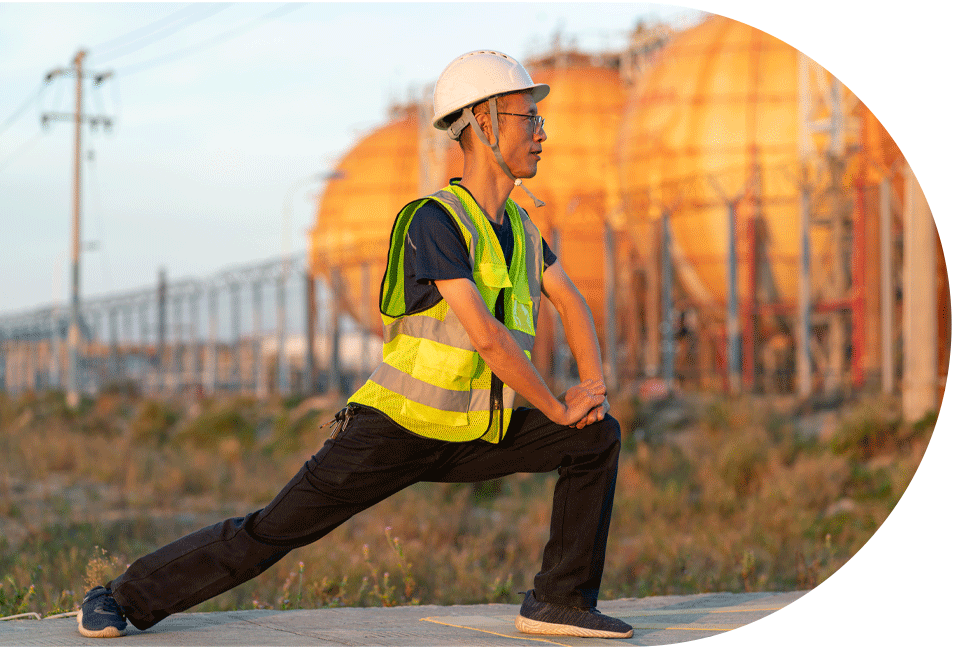 Safety & Injury Prevention
Our safety and injury prevention coaches focus on helping individuals prevent and manage injuries. Through education, guidance, and support, our coaches teach people how to identify and manage risk factors, recognize and respond to signs of injury, and develop strategies to prevent re-injury. We deliver a holistic approach that encompasses physical, psychological, wellbeing and environmental aspects of safety and injury prevention.
Our coaches provide education on the importance of healthy lifestyle choices, injury prevention techniques, and how to effectively manage an injury. They also work with participants on developing prevention strategies and provide resources to help them make lifestyle changes that reduce their risk of injury. In addition, our coaches will provide personalized advice and support to help people develop and maintain healthy habits that reduce their risk of injury.
Why Safety and Injury Prevention is important
Our safety and injury prevention coaches are an important tool to help employers looking to both reduce costs associated with workplace injuries and promote a safe and healthy environment for employees.
Additionally, by taking a proactive approach to injury prevention, employers can utilize our coaches to help create an environment that values safety and health, reducing the risk of an employee being injured on the job. Our coaches also help employees develop a comprehensive understanding of how to recognize and respond to potential signs of injury, ensuring that they are not put at risk.
Our programs have helped employers reduce workers' compensation costs by up to 30%.
Body Mindfulness
Understanding areas of the body that require attention to target improvements in flexibility, strength, and physical discomfort before injury occurs.
Body Mechanics and Posture
Understanding proper postural alignment and movement patterns for key job tasks and workstation setup.
Situational Awareness
Staying focused on the job and mindfully aware of surroundings, workstation, job tasks, and physical wellbeing.
Injury Prevention Through Physical Fitness
Committing to physical fitness to improve physical well-being and job performance; exercising safely and effectively to prevent non-work-related overuse or acute injuries.
Musculoskeletal (MSK) Discussions
Voluntary, confidential 1-on-1 coaching with the onsite Wellness Coach which can include coaching worksheets and assessments, stretching and exercise programs, and referral to additional employer, benefits, and safety or medical resources for improved wellbeing.
Providing high-quality mental health services for your employees and their family is easier than you might think. We provide participants with access to Mental Health First Aid (MHFA) certified healthcare professionals and licensed behavioral health counselors, onsite, from the comfort of home or on-the-go so they can get help they need, when they need it.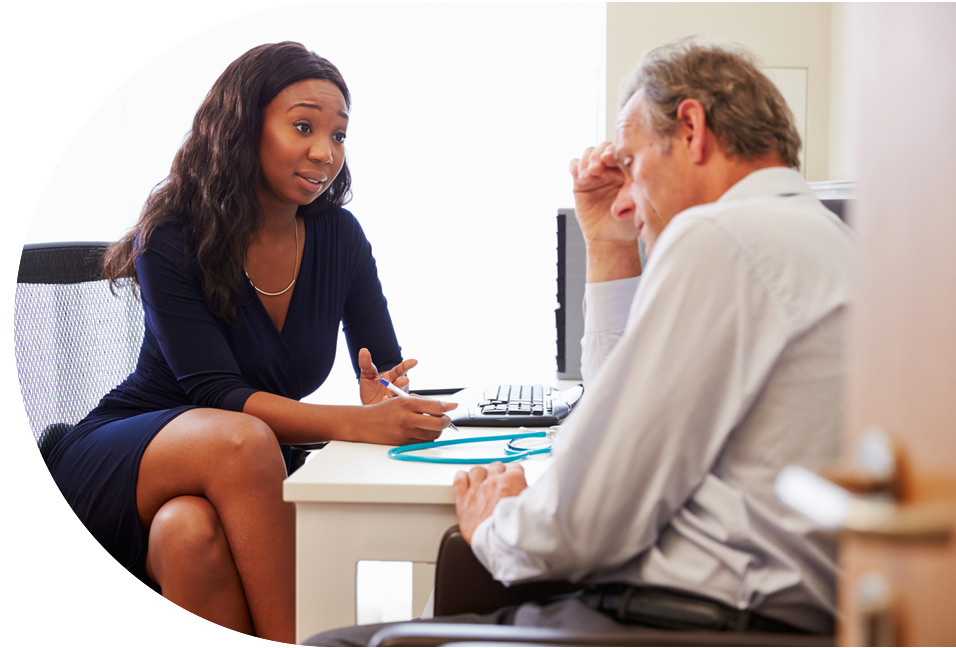 MHFA Certified Healthcare Professionals
Improved Mental Health
MHFA certified healthcare professionals will quickly help identify signs of mental distress and provide techniques to promote resiliency and well-being. This will help to reduce the prevalence of mental health issues, such as depression and anxiety, among employees.
Reduced Healthcare Costs
Providing an MHFA certified healthcare professional can help reduce healthcare costs associated with mental health issues. This can be achieved by reducing the need for costly treatments and improving overall health and wellbeing.
Increased Engagement
By providing an MHFA certified healthcare professional, people are more likely to engage in conversations about mental health and wellness. This can lead to increased quality of life, job satisfaction and employee loyalty.
Improved Performance
An MHFA certified healthcare professional can help improve overall performance by providing employees with the tools to manage stress and other mental health challenges. This can help increase engagement and productivity in the workplace or community.
Improved Culture
Having an MHFA certified healthcare professional will help create a more supportive and inclusive workplace or community culture. This will lead to improved quality of life, morale and productivity.
Mental Health Services
Available in all 50 states.
Used when a participant's concern requires a higher level of clinical care. Most of the time these referrals are generated by our MHFA certified health professionals.
Participants can schedule counseling appointments of 30 to 60 minutes, either onsite, via video or phone call. Our counselors work with each individual to create a tailored treatment plan best suited to their needs and frequency of care.
Services support a broad range of issues including: stress, anxiety, depression, substance use, sleep issues, work/life balance, family conflict, parenting concerns, adjustment challenges, and learning difficulties.
Types of Services:
Evidence-based, solution-focused psychotherapy

Primary care support

Collaborative care management

Psychosocial assessments and treatment plans

Screenings for suicide, depression, and anxiety

Psychological testing and assessments

Specialist referral and monitoring

Crisis intervention facilitation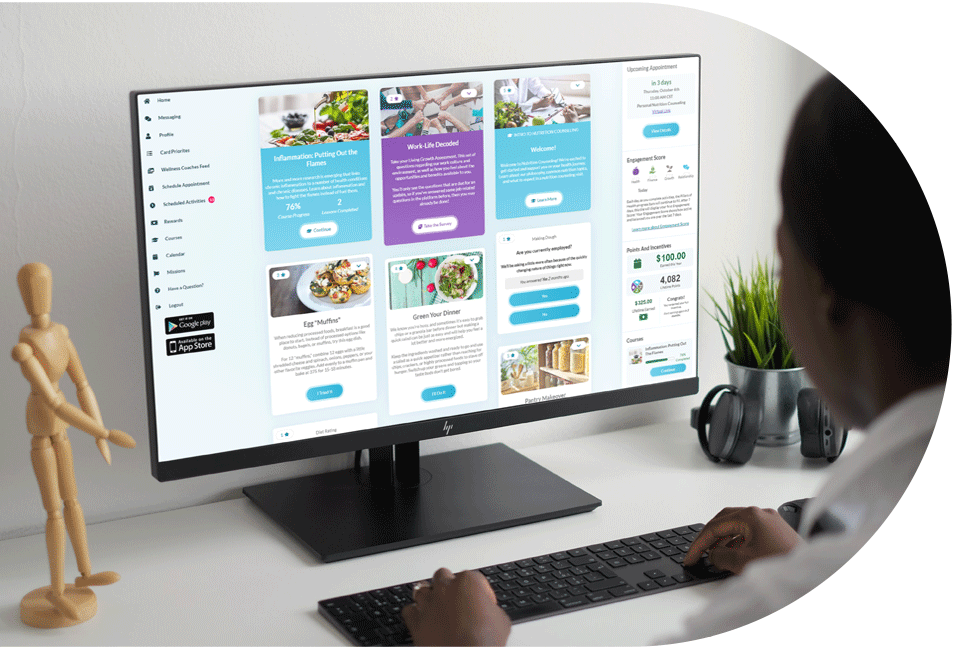 Our HITRUST certified, and HIPAA-compliant digital platform offers the capabilities employers have come to expect from their platforms like wearable device syncing, contests, HRA, and incentives and rewards – all available in a desktop and fully functional mobile app.  
But we know half the battle is getting participants to actually use the platform. What makes us different is the way we have tailored the experience to the individual to maximize engagement and keep them coming back.
Proprietary, Patented Technology
Our proprietary patented technology uses thousands of algorithms to uniquely personalize each individual's experience in the platform.
Living Health Risk Assessment
Our HRA is living, meaning it is dynamic, capturing an individual's health risks and diagnosed disease states in real-time. We follow up the experience with on-going pulse surveys and resurface the Living HRA every 90 days to ensure we're following the individual along their health journey and meeting their needs as they evolve and change.
Highly Personalized User Experience
Keeps individuals engaged in the technology by surfacing dynamic interactive content that is relevant to them (vs. a health and wellness library to search through and make sense of).
The experience is designed to motivate individuals through the stages of change to more effectively address their specific health risks and needs.
Incentive Management & Wearable Device Integration
Users can connect their trackers for tracking steps, weight, calories, sleep, and much more.
This data can be used as verified activities and to help employers personalize their wellness platform for the workplace using their unique employee populations.
Employers can set up contests within the corporate wellness platform using some of those metrics or an engagement score.