Welcome to Ramp Health, your trusted partner in comprehensive condition management programs. We understand the critical importance of managing chronic conditions and ensuring the well-being of your workforce. Our tailored solutions are designed to help organizations save money, increase productivity, and enhance the overall health of their employees. Cardiovascular health, diabetes, obesity, pulmonary illnesses, behavioral health conditions, and musculoskeletal related injuries are generally the top cost drivers for most organizations.
Read More
With our expertise in condition management, health coaching, and personalized care, we are committed to providing top-tier programs that deliver tangible results. When you implement our condition management programs, we will ensure your population's health status is continually improved, costs less and is more productive.
What Is Condition Management in Healthcare?
Condition management in healthcare is a proactive approach to address chronic health issues, such as diabetes, heart disease, high blood pressure, and asthma. It goes beyond traditional healthcare by focusing on prevention, education, and personalized care. Our programs aim to empower individuals to take control of their health and make informed decisions, ultimately reducing healthcare costs and improving the quality of life for participants.
A Personalized Approach to Healthcare
At Ramp Health, we believe that every individual is unique, and their healthcare journey should reflect that. Our condition management programs are personalized to meet the specific needs and goals of each participant. We understand that managing chronic conditions can be challenging, which is why our health coaches provide one-on-one support and guidance to help individuals develop and maintain healthy habits.
Read More
Our trained Clinicians, Wellness Coaches, and Registered Dietitians take the time to get to know each person's unique health situation and help them make positive changes. We help employees gain an understanding of the risks associated with their chronic illnesses and devise customized plans to improve their health. A thorough review of lifestyle, personal, and family health histories allows us to identify risk factors for disease and create a personalized action plan to make the necessary changes and achieve their goals. This personalized approach has been proven to not only improve health and reduce absenteeism, but also to increase productivity and cut costs.
Key Components of our Programs
Our comprehensive condition management programs consist of several key components that ensure the best possible outcomes for participants:
One-on-one coaching
Our experienced health coaches work closely with participants to create personalized care plans. They offer guidance on medication management, lifestyle changes, and goal setting, empowering individuals to take charge of their health.
Disease-specific education
We provide a wealth of educational resources, including articles, videos, and workshops, to help participants better understand their conditions. Knowledge is a powerful tool in managing chronic illnesses.
Self-care and management strategies
Personalized self-care strategies and effective management techniques tailored to specific chronic condition, guided by our expert health coaches.
Dietary planning and physical activity goals
Dietary planning and achievable physical activity goals to improve an individual's overall health and well-being as part of our condition management programs.
Medication adherence to close gaps in care
Medical recommendations can bridge gaps in care, ensuring a comprehensive approach to managing chronic conditions under the guidance of our dedicated health professionals.
Lifestyle modification and ongoing monitoring
Our programs include regular check-ins and health assessments to track progress and make necessary adjustments to the care plan. This ensures that participants are on the right path to better health.
 Condition Management Programs
Ramp Health offers a range of condition management programs that cater to various chronic conditions, including diabetes, cardiovascular disease, and metabolic syndrome. Our goal is to reduce the burden of chronic disease, improve health outcomes, and lower healthcare costs.
Cardiovascular Disease
Our program focuses on seven key health factors which have been proven to successfully combat cardiovascular disease; knowing your risk, nutrition, physical activity, managing stress, healthy weight, smoking cessation, and controlling diabetes.
Diabetes
Our diabetes prevention program coupled with our diabetes self-management, education, and support services, offer a targeted and tiered approach to improve the patient experience, control costs, and enhance health outcomes.
Metabolic Syndrome
Our program focuses on six key health areas to address metabolic syndrome: nutrition, physical activity, stress management, quality sleep, healthy weight, and tobacco cessation to improve the patient experience, control costs, and enhance health outcomes.
Special Report
What You'll Learn:
The economic and health impacts of diabetes
The benefits of having a dedicated diabetes healthcare team
Strategies for employers to prevent and manage diabetes in their workforce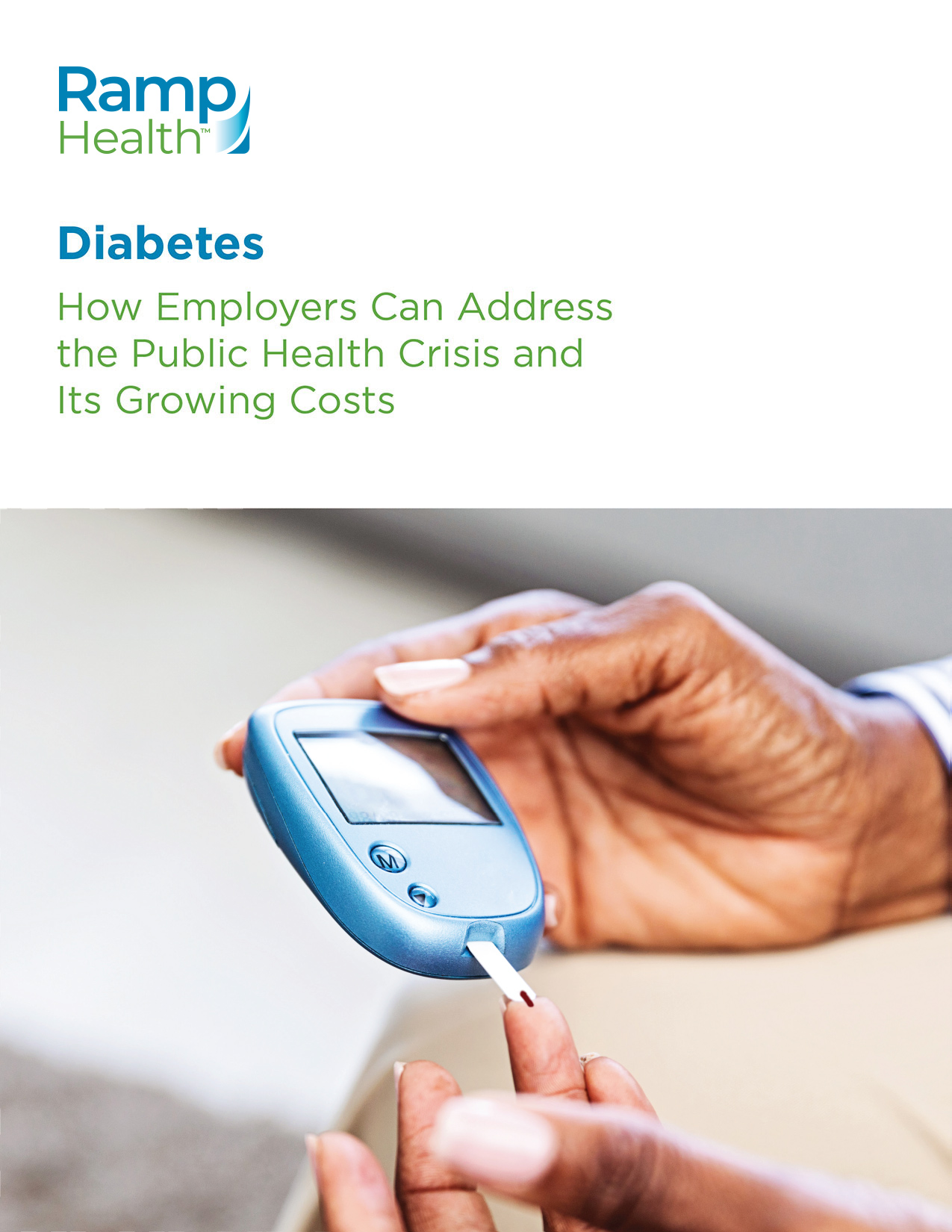 Ramp Health: Helping Individuals Take Control of Their Health
As a leading provider of condition management programs, Ramp Health is dedicated to helping individuals manage their chronic conditions effectively. Our programs focus on risk prevention, education, and personalized treatment plans to empower participants to lead healthier lives.
Read More
Get Started with Ramp Health
Are you ready to make a positive impact on your organization's workforce? Ramp Health's condition management programs are the solution you've been searching for. By investing in the well-being of your employees, you can reduce healthcare costs, boost productivity, and create a healthier, happier workplace.
Contact us today to learn more about how our programs can benefit your organization and its members. Together, we can embark on a journey towards better health and well-being for all.